Experience Three of Norway's Most Scenic Trains on Your Next Holiday
By Railbookers
Tuesday, June 4, 2019
Read time: 2 minutes
Norway is a destination that has become increasingly sought-after by many travellers in the UK—and it's easy to see why! It's one of the world's most beautiful countries. The country's otherworldly landscapes linger in the memory long after returning home. From breath-taking fjords, sweeping valleys, awe-inspiring mountain peaks, lively cities, the jagged coastline, and natural phenomenon such as the northern lights and the midnight sun, there's something for every type of traveller. And guess what? The best way to discover this magical destination is by train. Learn all about three of Norway's most scenic trains that you can experience for yourself on your next holiday!
The Flåmsbana
The route:
Flåm in Aurland to Myrdal
Distance:
20 km
Duration:
2 hours roundtrip
Highlights: 
The majestic Sognefjord, Rallar Road, stunning mountains, and waterfalls
Overview
The Flåm Railway will introduce you to some of the wildest and most beautiful Norwegian fjord landscapes. Over the course of one hour, the train travels from sea level at the Sognefjord in Flåm to the Myrdal mountain station. This amazing journey is one of the steepest gauge railway lines in the world with 80 percent of the ride at a gradient of 5.5 percent.
Rauma Line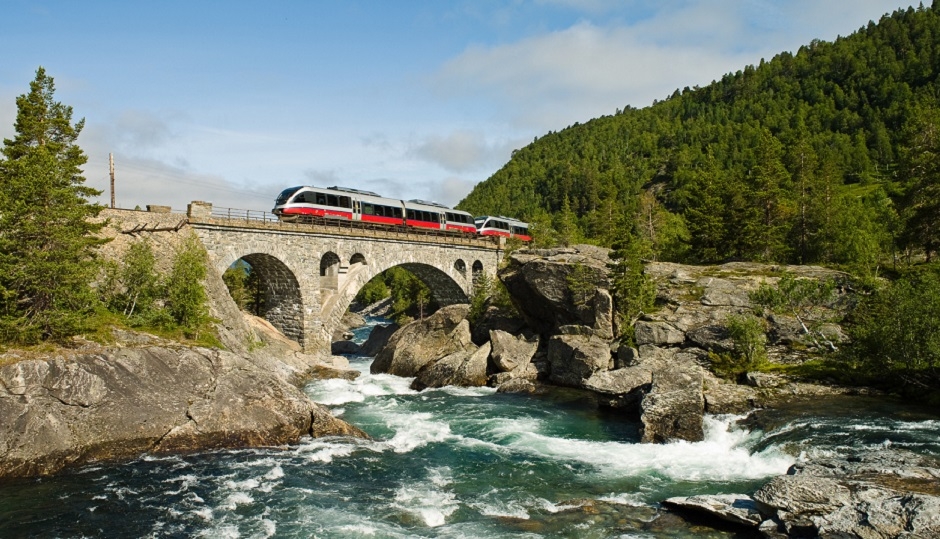 The route:
Åndalsnes to Dombås
Distance:
112 km
Duration:
2 hours
Highlights:
 The Rauma River, Reinheimen National Park, Kylling Bridge, and the famous Trollveggen (Troll Wall)
Overview
Featuring one of the most dramatic descents of any rail line, the Rauma showcases some incredible landscapes. During your journey, you'll see the Rauma River, Reinheimen National Park, and the famous Trollveggen (Troll Wall). The train also crosses over 32 bridges, including the Kylling Bridge that sits 60 metres above the river below.
Bergen Line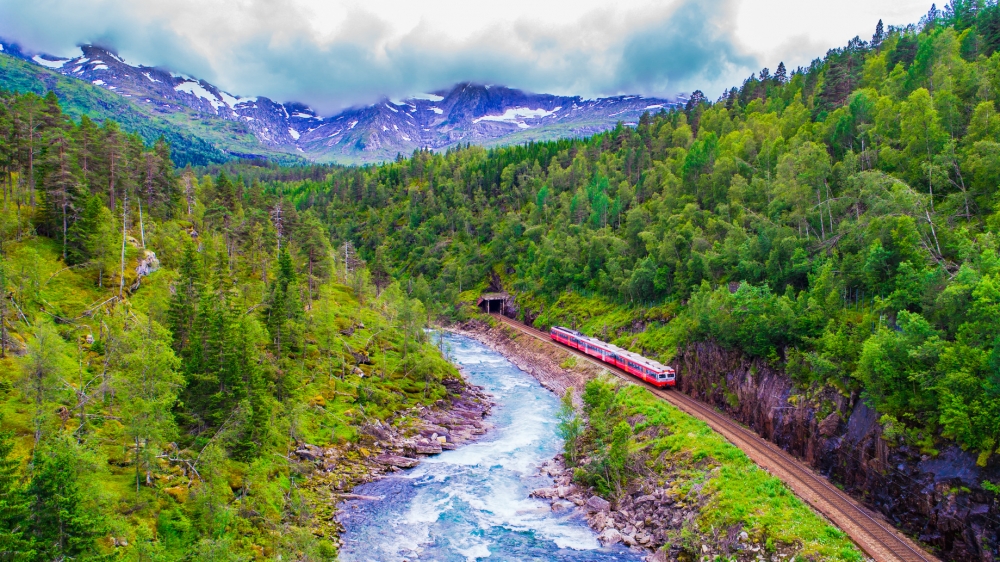 The route:
Oslo and Bergen via Flam (Norway)
Distance:
370 km
Duration:
7 hours
Highlights:
The Hardangervidda plateau, islands, fjords, mountain passes, forests
Overview
The Bergen Line is one of the most scenic railways in the world. At over 1,219 metres above sea level, it's also the highest in Northern Europe. From Oslo, the train passes above the Hardangervidda plateau, over islands, and breathtaking fjords. During the second leg of this seven-hour journey, you'll see lakes, forest, and charming Scandinavian huts.
Our Most Popular Train Trips in Norway